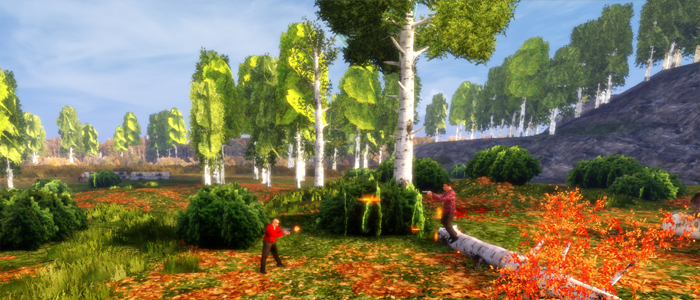 Freaky Green Sunshine is a story driven sidescroller, action, puzzle -platformer. The game takes the player through an exciting, humorous story and adventure as you take the role of Jonas, a burger-loving, just chillin', super-ego on his journey to stop the corporate giant Abbage  Foundation.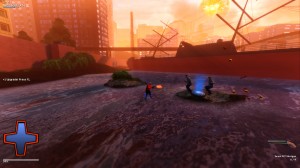 After waking up from a helicopter crashing into his living room, Jonas has one thought on his mind "They will have to pay for this.. Cause I'm not going to". However he soon realizes there is more to the picture than he thought and the brainwashed soldiers marching the streets may have something to do with the Freaky Green Sunshine, shining down from the "green eye" in the sky, a green planet which has been orbiting earth for the last two months.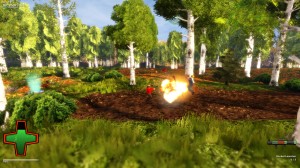 The story in the game is told through voiced characters and occasional cutscenes. Through character interactions, Jonas interacting with the environment and clues in the environments themselves. The script contains over 45 min of lines of dialouge for the main character and there are over 20 different characters you will meet through-out; some minor and some taking a bigger place in the story. Examples are Grim donut, a green-caped figure with a donut hat, the mime Bamsarco, author of the international best-seller "the sudden soup" and Charles Abbage, the CEO and founder of Abbage foundation, manufacturer of foundation and foundations.
Freaky green sunshine features a whole range of bosses that you will encounter through-out the game. The bosses work like in traditional games where you take a break from the normal action and puzzles to fight the boss. The boss battle is not only about shooting-to-kill but has more puzzle elements to it. Each boss has its own unique way of beating. An example is the "Killer Bus", one of the "mini"-bosses; a maniac bus trying to kill you.
The game takes place over three full days and nights and all levels are connected (in some way), which means you will be going through night and day through indoor and outdoor environments as well as different weather. You start in the forest and make way into the city and then beyond…
Freaky green sunshine is being developed on the Unreal Development Kit (UDK) for PC.
News about Freaky Green Sunshine